Random image

Invaders 16
Comments: 0
Tim


Uncle Sam's Birthday 4th of July T Shirts
by
Holidayfunstore
See more
Uncle sam T-Shirts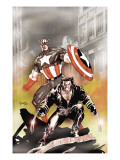 Wolverine Captain America
Buy this Art Print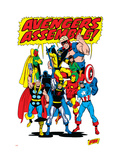 Avengers No.71 Group: Goliath Art Print
Buy this Poster

Buy Action Hero Abs

to develop your abs!

Action Hero Abs the site
Health and Fitness Videos


Buy The Time Cruisers The Exodus Trap
A book for those that love World War II, beating Nazis, time travel, and old fashioned action!
Captain Freedom; WW2 Era
---
Captain Freedom; WW2 Era
Description: This is a character I recently introduced @ Superherouniverse.com as a newer addition to my stable of original creations. He started as just knock-off Captain America that was mentioned in other charcter's origin stories. I eventually decided to make an actual character with his own origin.

Captain Freedom is the result of the Ultra-Soldier project started during under the shadow of inevitable United States entrance into WW2. Roger Stevens volunteered for medical enhancement and intense combat training. Covert missions into Germany followed. After December 7th, 1941, Captain Freedom was cut loose and his existence was well publicized. By March of 1942 Captain Freedom was the face of the United States superhero war-effort. Stevens relished that roll and did not disappoint. Despite never capturing his nemesis, Death Mask, he did stop his previously unbroken kill streak, giving hope to many world-wide. This crack in the Nazi super powered effort showed they were not invincible. Captain freedom alternated between the Pacific and European theatre; wherever he could serve his country best. As the Russians slowly advanced to Berlin in early 1945, Captain Freedom fought his way to the city early. Weeks of cat-and-mouse surveillance espionage finally lead Stevens to a bunker housing Adolf Hilter himself. In the end it was a cleaver ruse and Captain freedom was captured is a deep-freeze cryogenics trap. Though not part of the actual capture, once Death Mask was informed of the situation, he wanted Captain Freedom killed. Hitler intervened as his intention was to keep Captain Freedom out of commission for several months then use him for a propaganda purposes in the Fall. These plans never came to fruition as Hitler's focus soon came to self-preservation as the Red Army drew closer. Massive shelling eventually collapsed the cryo-laboratory, sealing Captain Freedom under tons of rubble...


Captain Freedom possesses a brilliant tactical mind, augmented strength (3/4 ton range), incredible agility, extended aging resistance, and his impenetrable Victory Shield.
Keywords:
Date: 22.08.2010 10:04
Hits: 2117
Downloads: 0
Rating: 5.00 (1 Vote(s))
File size: 420.8 KB
Added by:
jerod
IPTC Info
Caption:
CANNES, FRANCE - MAY 19: Actor Jude Law attends the 'The Day After Peace' Jude Law photocall at the Majestic Beach Pier during the 61st International Cannes Film Festival on May 19, 2008 in Cannes, France (Photo by Francois Durand/Getty Images)
Caption writer:
tv
Headline:
Cannes 2008: 'The Day After Peace' - Jude Law Photocall
Byline:
Francois Durand
Byline title:
Stringer
Credit:
Getty Images
Source:
Getty Images Europe
Object name:
51992326
Date created:
19.05.2008
City:
Cannes
Country:
France
Category:
Ent
Supplemental category:
ACE, CIN, CEL
Copyright Notice:
2008 Getty Images
God Bless America Tank
by
Holidayfunstore
For lots of fun product stuff check out these pages.
Cartoon Animals
Christian Products
Cool Designs
Holidays
Sports and Fitness
Superheroes